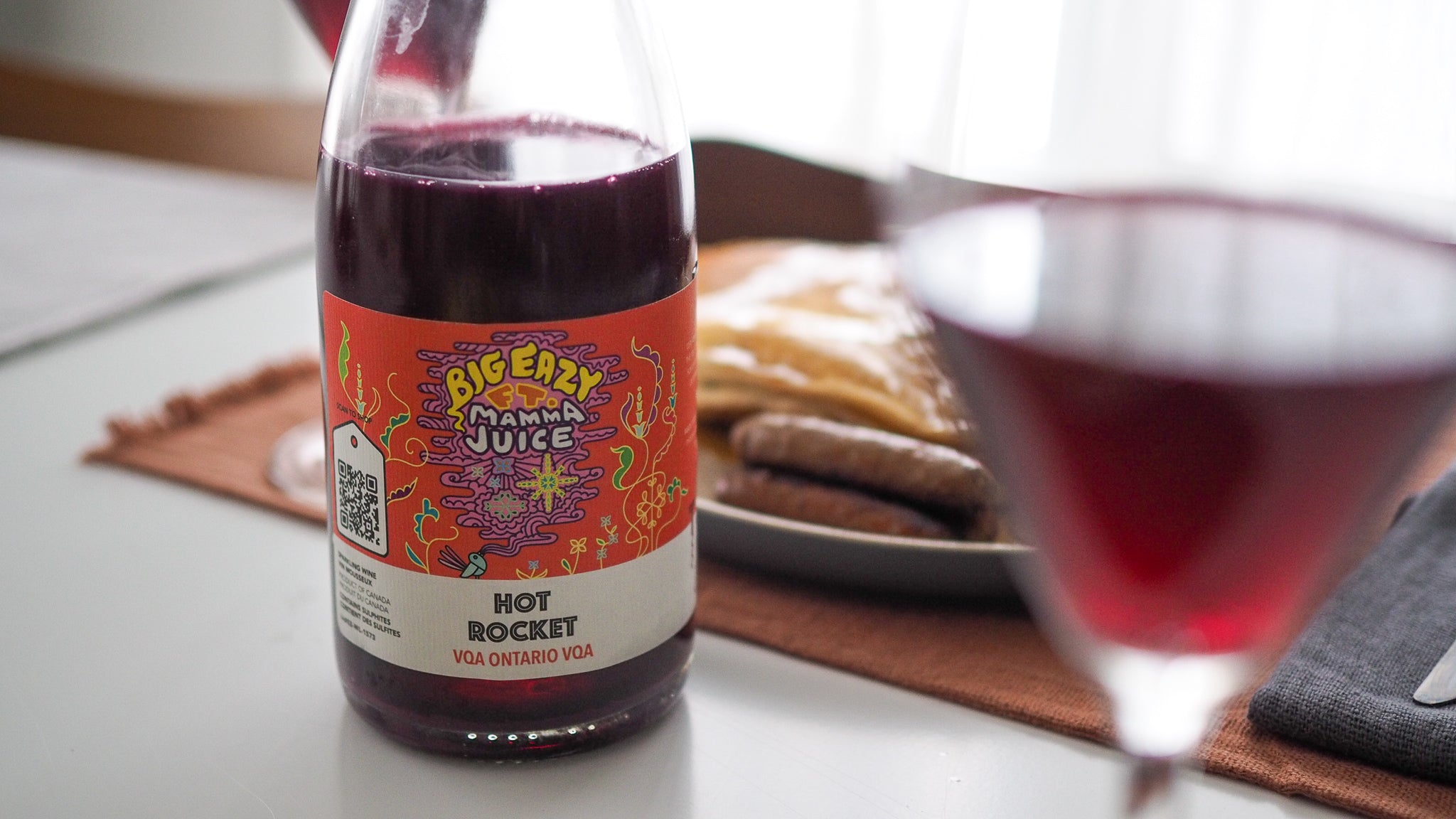 There's something extra special about a local pairing, and that isn't hard to do in Prince Edward County. With an ever-expanding list of delicious restaurants, wineries, and breweries there are countless options to choose from — but sometimes the pairing is just obvious when you take into consideration the inspiration behind the bottle of wine and the story behind the eatery. 
If you haven't heard, Traynor has released a new line of Pét-Nats that are all about having fun. They are playful, colourful, experimental, funky and fizzy — the perfect combination to brighten a grey winter day. The Hot Rocket and Green Meanie from the Big Eazy line are especially fun, with their names being inspired by candy Mike Traynor enjoyed as a kid, bringing back a touch of nostalgia.
When we heard this story, we knew we had to head to The Vic Drive-In in Picton — a great stop during any visit to Prince Edward County. This diner is the perfect mix of retro and modern, with a classic menu given a special County twist, and a colourful décor pulling from the pastels of cotton candy and bright tie dye patterns. You can choose from breakfast favourites — do yourself a favour and get the Breakfast Poutine — or go for something heartier like the classic Vic Burger. Whatever you decide, you won't be disappointed. You can dine in, drive-in, or grab takeout. So many options!
We decided to take our breakfast home so that we could enjoy it with something bubbly. The team at Traynor doesn't shy away from a good breakfast wine (in fact there is a wine inspired by just that — Breakfast in the Vineyard, anyone?), so it was a must to pair one of new playful Pét-Nats with some of our favourite Vic breakfast items at home. With visions of classic cars parked outside diners back in the day we grabbed the Hot Rocket out of the fridge to join us for breakfast. Be careful when opening the bottle! (If you're new to the art of opening Pét-Nats you can always check out this video with a tutorial on how to reduce the fizzy overflow.)
The Hot Rocket is 50% Gamay Noir and 50% Baco Noir, but 100% delicious and fun. With this Pét-Nat at the table, you can skip the fresh fruit at breakfast and swap it for the blackberry, cherry and sage notes of this wine, and the cranberry and thyme notes to finish. If you're still feeling thirsty after breakfast, it's a great excuse to come to the winery in Prince Edward County and check out some more new releases, while relaxing on the heated patio.
—
Do you have a favourite dish to pair with Traynor's wines? Share them with us @traynorvineyard so we can taste them along with you.