Visiting us
Reservations & events
Experiences
Welcome to Traynor Family Vineyard, where we offer a unique wine tasting experience in the beautiful Prince Edward County. Our indoor and patio tastings, bottle sales, and curbside pickups are available year-round, with varying hours depending on the season.

RESERVE YOUR SPOT
Seasonal hours
We are closed on Christmas Day, Boxing Day, New Year's Day, Easter Friday, and Easter Monday.
May 15-October 15: Open Daily from 11:00 am-7:00 pm. Wine slushies, Conservas menu, and Charcuterie Platters are available.
All hospitality spaces are open, including the Cellar tasting room, Covered Wall Garden Patio, Sail Garden Patio, Vineyard Patio, and Lavender Garden Hammocks.
October 16-December 31 & February 16-May 14: Open Daily from 12:00 pm-6:00 pm. Mid-October to the end of November is typically our peak harvest season, which is a great time to see how things are done. Conservas menu and Wine Pairings are available. Open spaces include the Cellar Tasting Room, and Covered Wall Garden Patio.
January 1-February 15: Open Friday-Tuesday from 12:00 pm-5:00 pm. Closed Wednesday/Thursday. Our off-season, perfect for one-on-one time with our team. Conservas menu and Wine Pairings are available. The Cellar Tasting Room is the only space open during this period.
Our space descriptions
All of our tasting areas are accessible by wheelchair.
Cellar Tasting Room: Taste amongst the barrels in our cellar tasting room. Capacity for 16 people. Seating around the tasting bar and a tabletop placed on top of wine barrels. This is our only fully heated/air-conditioned space that operates year-round.
Covered Wall Garden Patio: Sit on a fully covered patio amongst our cedar and mint garden. Capacity for 24 people seated. Perfect for a rainy day. Open March 15-November 31.
Sail Garden Patio: Perfect for hot sunny days and groups looking for privacy. The entire space is covered by a large shade sail and surrounded by lush Lilly's, hostas, peonies, and clematis vines. Capacity for 20 people. Open May 15-October 15.
Vineyard Patio: Overlooking our vineyard, you can reach out and touch the vines. Two small cabanas that can seat eight people each and the rest of the patio seating is protected by large umbrellas. Capacity for 70 people. Open May 15-October 15.
Lavender Garden Hammocks: Relax under a shaded pergola on a hammock while the breeze wafts the scent of lavender over you. Open May 15-October 15.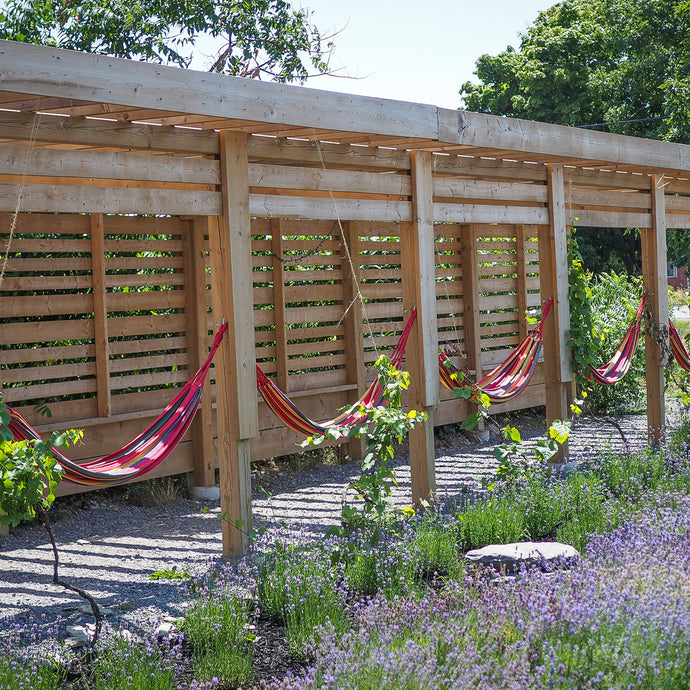 Come and experience our wines in an intimate environment, surrounded by the natural beauty of Prince Edward County. We look forward to welcoming you to Traynor Family Vineyard!
Welcome to Traynor Family Vineyard, a family-owned and operated winery located in Prince Edward County, known for its stunning natural beauty and delicious vegan, natural wines. Our winery prides itself on producing wines that reflect the true terroir of the region, including unique offerings such as pet-nat and piquette. We offer indoor and patio wine tastings, bottle sales, and curbside pickup. Our seasonal hours vary, but we are open year-round, except for Christmas Day, Boxing Day, New Year's Day, Easter Friday, and Easter Monday.
Reservations
Reservations are not required, but highly recommended for groups of six or more for prompt service.
Groups larger than 16 people are required to have a reservation.
We will hold the reservation for up to 20 minutes before marking it as cancelled.
If you are running late, be sure to call 1-877-403-4224 or email retail@traynorvineyard.com to ensure we don't give your table away.
Check out our Experience Page for unique opportunities
Call to action: Email retail@traynorvineyard.com to make a reservation.
Large groups
Private events and large groups can be accommodated with notification in advance.
There is a minimum tasting fee of $12/per person for groups of over twenty people. This includes samples of four wines.
A single tasting bill will be provided to groups of over 16 people and all individuals will be considered to be tasting.
Non-alcoholic beverages will be provided to those who are not consuming alcohol.
An automatic gratuity of 15% will be charged to large groups.
Call to action: Email retail@traynorvineyard.com to make a reservation for your large group.
Private events
We would be excited to host your private event at Traynor Family Vineyard.
We have multiple seasonal spaces that can be booked to accommodate various group sizes:
Cellar Tasting Room: Capacity 16 people
Covered Wall Garden Patio: Capacity 24 people
Sail Garden Patio: Capacity 20 people
Vineyard Patio: Capacity 70 people
Lavender Garden Hammocks: Capacity varies
Our facility is well suited to cocktail style, casual events in a relaxed environment.
Enjoy beautiful sunset views overlooking the vineyard, or walk amongst the gardens.
We do not have onsite kitchen facilities, so food would need to be catered and booked in advance. We know many caterers and event planners if you need assistance.
All patios and the tasting room are wheelchair accessible.
Charges depend on event style, timing and requirements.
Call to action: Email retail@traynorvineyard.com to book a private event.
Blockout period
From May 15- October 15 we cannot accommodate large groups (of over 20 people) or private events on Saturdays between 12:00PM and 5:00PM.
Deposits & cancellations
All large group bookings/private events require a 25% deposit in advance.
Final payment is to be made the day of the reservation/event.
For group reservations for tastings, 24 hours notice is required for a deposit refund. The deposit is transferable, and a new reservation can be made for an alternate time.
Private event cancellations require 30 days notice for full refund.
Don't hesitate to contact us to book your next visit, or to inquire about hosting your special event. Our team is dedicated to making your experience at Traynor Family Vineyard a memorable one.